Rotary International president praises good work of P.E.I. Rotarians
Rotary International chairman Ian Riseley, left, chats with Bob Moffatt, Centennial chairman for P.E.I. Rotarians, during a visit to the province.
©THE GUARDIAN/Jim Day
Rotary clubs, says the international president, give members plenty more to sink their teeth into than a simple chicken dinner.
Ian Riseley says that offering a hearty menu of meaningful activity is key to the movement thriving.
"People won't just join to go to lunch,'' he says.
"They want to make a difference – and the best clubs are those that are really busy because when someone joins that club, they join for a purpose.''
Sure, people join Rotary clubs for friendship and to improve themselves and their business, Riseley notes.
"But the most important reason, I think, is because they want to help society both locally and globally, and Rotary is the best example of that,'' he says.
The 70-year-old chartered accountant has served Rotary in numerous capacities since joining Rotary Club of Sandringham in Victoria, Australia, in 1978 at age 31 - the "youngest member by quite a bit'' at the time.
People won't just join to go to lunch. They want to make a difference – and the best clubs are those that are really busy because when someone joins that club, they join for a purpose.
As president, Riseley is able to see a lot of the good work being done by more than 1.2 million Rotarians globally; impactful work, for instance, like a rotary club in Sweden offering wonderful help to welcome and settle Syrian refugees.
"It is positively inspiring to see the work – hard work, but very rewarding work – that is being done in the name of rotary,'' he says.
Riseley arrived in Prince Edward Island early Saturday for his first visit to the province, taking in some of the good work being done by Rotarians here.
He toured, among other areas, Camp Gencheff, the soup kitchen in Charlottetown and the Inspire Learning Centre in Summerside – all initiatives supported by local rotary clubs.
He is "encouraging Rotarians to continue to keep doing the wonderful work that they are doing.''
Bob Moffatt, chairman of the Centennial Committee for Island Rotarians, says Riseley's visit to P.E.I. is a reflection of the fact that Island Rotarians have contributed much to their communities and to communities around the world over the past 100 years.
Moffatt says the Rotary movement is strong on P.E.I. with about 300 members in six clubs.
"About three or four years ago when we started all this centennial celebration we went out to the community and we got younger people,'' he says.
"We've got some great ladies in our club now and they are taking leadership roles which is really, really good to see.''
Moffatt adds that offering valuable contributions to young people and seniors remains a high priority for rotary clubs.
At our Sept. 25th Club meeting, we approved a Donation of $3,000 to the PolioPlus Campaign in honour of the RI Presidential visit.
Below is the Flag Raising at Government House during President Riseley's visit on Oct. 2nd.
From left to right: Past District Governor, Duncan Conrad; Past District Governor, Bob Moffatt, Lieutenant Governor of PEI, Frank Lewis, and RI President, Ian Riseley.
Rotary, along with
our partners
, has reduced polio cases by 99.9 percent worldwide since our first project to vaccinate children in the Philippines in 1979. We are close to eradicating polio, and Club was glad to help.
World Polio Day: October 24th
One Day, One Focus, Ending Polio.
Rotary is getting ready for our 5th annual World Polio Day event, co-hosted with the Bill & Melinda Gates Foundation. Rotary will live stream from the Gates Foundation headquarters in Seattle, Washington to bring together more than 50,000 viewers around the world. Join us as global health experts and celebrities share our progress on the road to polio eradication.
At our Oct. 2 meeting, President Paul Crant presented Past President, Wes MacAleer with the Past Presidents Pin with RI President, Ian Riseley, in attendance.
Paul thanked Wes for a great year. Wes played a big role in the future of the Club by helping ensure that the new Radio Bingo fundraiser was successful. The Bingo is the fundraiser that our Club needed, in order for our members to be make a real difference in the Community. Having a successful Fundraiser was a critical step in the success of the Club and was Step 2 of a 3 Step Plan to revitalize the Club that was put in place 1.5 years ago.
Step 1 - Increase the membership so that we could undertake Step 2
Step 2 - New major fundraiser
Step 3 - New Service Projects which engages the Club & the Community
At out Oct. 2nd meeting, we presented Janice Blacquiere with an Honourary Paul Harris Fellow for her volounteer work on behalf of Easter Seals PEI. Janice is employed by D.P. Murphy Inc. and coordinates the Tim Hortons Ambassador School Tour. She takes care of all the tour details from posters, to the timed arrival at each school, introduction of ambassador, and family. She is on a first name basis with the school contacts and has made a personal connection with each of our ambassadors and their families over the years.
She is there every day of the tour, at every school, and every year for over 25 years. The Tour started about 28 years with a Van and only visiting a few schools in Queens County. We now have the Tim Hortons Bus visiting over 60 schools across PEI. This is the largest single annual fundraiser for Easter Seals PEI. The tour raises over $30,000 per year. Last year, $36,873 was raised, which was almost a quarter of our total revenue for the whole campaign.
From left to right: RI President Ian Riseley, Janice Blacquiere, Easter Seals PEI Campaign Chair 2016-2017 Peter MacDogald, and Club President Paul Crant.
An information session for high school students interested in an international student exchange for the 2018/19 school year is taking place on Monday, October 23 at the Charlottetown Rural Lecture Theatre. Students must attend the meeting with at least one parent/guardian. Application forms are due November 6, 2017.

The student exchange has been known to be a once in a lifetime experience. "Rotary Youth Exchange was the best year of my life. I spent one year in another country going to school, living with host families, learning a new language and culture, travelling and making new friends from around the world." – RYE Student
District Governor Citation: Craig is fondly referred to Craig as Treasurer for Life. He is a fully active Board member, and despite his relatively young age often serves as our corporate memory, pointing out previous decisions and directions, and making sure proper procedures are followed. When looking for a document it is often easier to ask Craig than try to find it from any other Club source.
Craig's commitment to Rotary is exemplary. He is a multiple Paul Harris Fellow.
But the true reason for this award is not just for the activities we see Craig perform every meeting, it is for the countless hours behind the scenes.
He has been a central figure in the development, implementation and operation of the bingo fund raiser. He does it all in addition to his duties as Treasurer and Board member. Long before the volunteers show up at the radio station, Craig is busy producing the invoices and setting the retail card allocations for the following week so that the work of the distribution team runs more smoothly. He then takes an active role in the bingo operation, often on the computer managing the game. When the game is over Craig is still on the scene after the other volunteers have gone. He works quietly making sure the cheques are completed, the addresses accurate, and the material ready for the mail. And he makes sure it gets in the mail. It is Craig that makes a final walk through of the facility making sure it is tidy, the doors locked, and the lights out. When there was a rumble in the bingo machine it was Craig that went to Canadian Tire bought the right sized screw driver and took the machine apart to see what was wrong. When there was a communication challenge between rooms it was Craig that bought walk talkies, and it is Craig that makes sure they are charged each week.
Craig steered the club through the CRA audit of our charitable status, managed the follow up, guided the implementation of recommendations and ensures they are followed.
Craig is an Accountant, Partner, and Tax Specialist at Arsenault Best Cameron and Ellis.
From left to right: RI President Ian Riseley, District Governor Don Sword, Craig Bradley, and Club President Paul Crant.
Premier Wade MacLauchlan stopped by to meet Rotary International President, Ian Riseley before our Club meeting on Oct. 2nd. Pictured here with Centennial Chair, Bob Moffatt.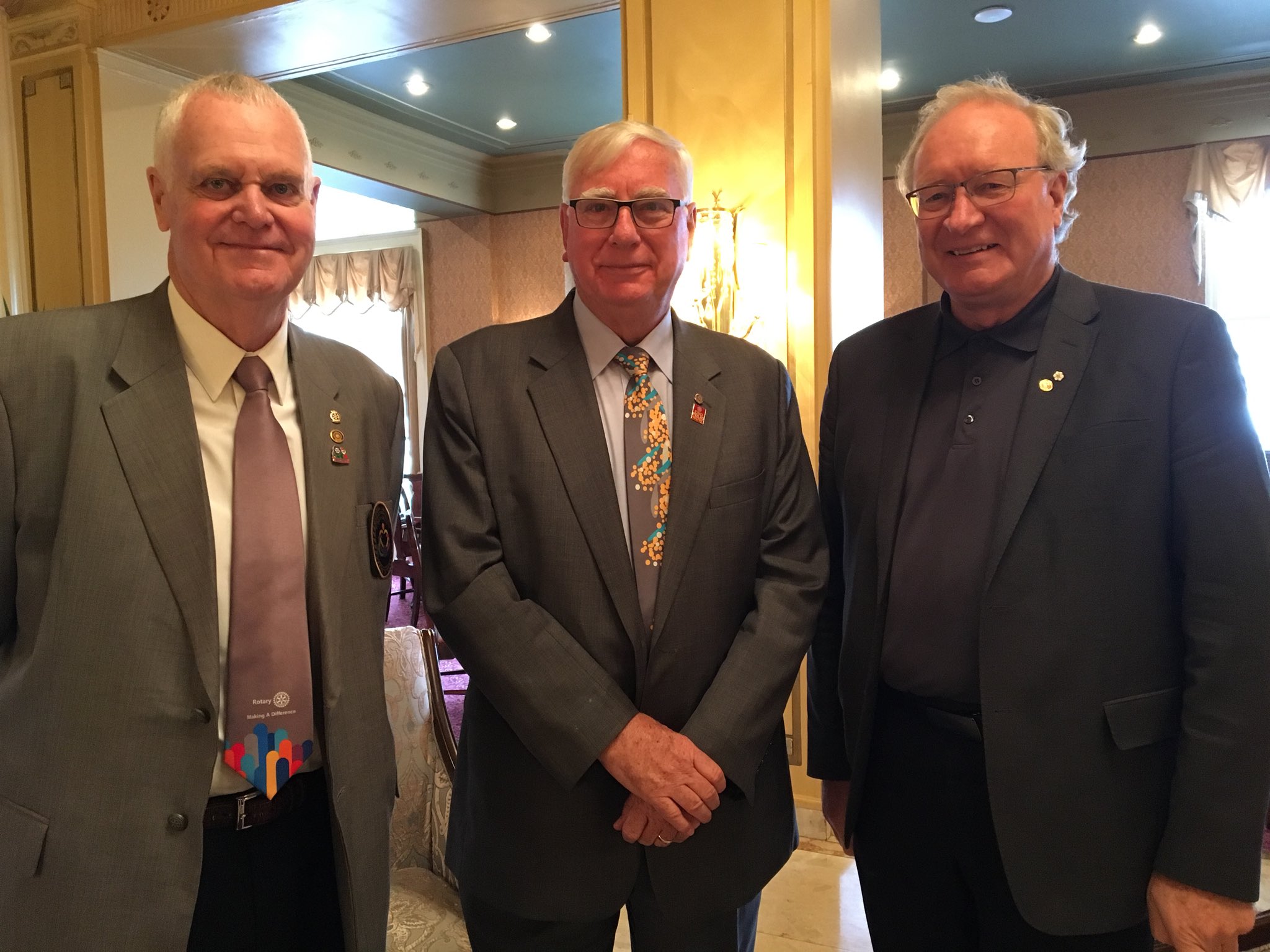 The Upper Room Hospitality Ministry was established in 1984. It is a non-profit, non-denominational organization established to open and operate the first Soup Kitchen at the Basilica Recreation Centre. It now also operates the Charlottetown Food Bank.
With the Soup Kitchen being forced to move due to the pending sale of the Rec Centre, the Upper Room was looking for help to find a new location. Finding a location was not easy, and there were several attempt by citizens to derail the project because no one wanted a Soup Kitchen located near their residence or place of business.
Local Rotary Clubs were looking for a signature project to celebrate the 100th anniversary of the founding of Rotary in 1905. The Rotary Clubs of Charlottetown, Charlottetown Royalty, and Hillsborough donated $50,000 each, and the Rotary Club of Stratford donated $5,000 in order to get it the new Soup Kitchen built. In 2005, the Soup Kitchen moved to a new building on Richmond St. Club President, Bob Sear, was a key proponent of the project and was heavily involved in the planning. Bob's firm designed the building.
The Staff and volunteers currently serve between 85 and 120 people per meal. Volunteers from church groups and nonprofit organizations prepare and serve meals on weekends and special occasions.
Below, Bob Sear, explaining the details of the project to RI President Riseley, Deputy Mayor Mike Duffy, Past District Governor Bob Moffatt, MLA Bush Dumville, and Past District Governor Juliet Riseley.
The
Rotary Club of Charlottetown
celebrated its 100th Anniversary of its charter on October 1st, 1917 with a Gala dinner at the Delta Charlottetown. The keynote speaker was
Rotary International President
Ian Riseley! Special head table guests included (L) PDG Bob Moffatt, (R) Club President Paul Crant, Juliet Riseley, Lieutenant Governor H. Frank Lewis, Rotarian Larry Sider, District Governor Don Sword, and Charlottetown Mayor Clifford Lee. Other head table guests included Rotary VP Dean Rohrs, and Rotarians Moe Rodgerson and Sandra MacKay - members of the Centennial Committee.
Some photos from RI President Ian Riseley's and Juliet Riseley's visit to PEI to mark the Centennial of the Rotary Club of Charlottetown. He had a tour of Camp Gencheff and participated in a tree planting with the Rotary Youth Exchange students September 30, 2017.
Their first visit was to the Rotary Club Of Charlottetown's proud 50+ year project - Camp Gencheff. PDG Bob Moffatt and Club President Paul Crant along with a large contingent of local and district Rotarians and Youth Exchange students greeted the special guests. Past President Edna Reid acted as tour guide as she explained the history and activities at Camp Gencheff.
Ian and Juliet were asked to plant a ceremonial tree to mark the 100 years of the Rotary Club of Charlottetown. This is in keeping with RI President Ian's "Plant a Tree" challenge. Every Rotary Club in the world is challenged to plant one tree for every member of their club. Pres Ian says the reaction has been overwhelmingly positive. One District in India plans to plant at least one tree for every Rotarian in the world! Ian and Juliet asked the Youth exchange students (sadly none of whom were from Australia!) to help out with the planting.
The Rotary Club of Charlottetown has been involved in Camp Gencheff from its beginning in 1961 with the Club providing the operating funds for the first year of operation. In fact, the Club has provided funding to the Camp every year and is the largest overall donor. The original Camp sign was "Bellevue Camp built by Polio Foundation and operated jointly with the Rotary Club of Charlottetown". The Camp is now named after Dr. Gencheff, a member of the Rotary Club of Charlottetown at that time, and medical Doctor who provided medical services to Island children with disabilities. Dr. Gencheff was involved in the planning of the Camp from almost from the beginning.
| | |
| --- | --- |
| | |
| | |
Donations Strategy Committee Update:
The Committee is almost finished. The Board is expected to review the Donations Strategy Policy on Oct. 10th. The Policy will be discussed with the membership at the next meeting on Oct. 16th. We thank those Club members who have participated in this process by answering the Survey, sending possible recipients to the Committee. Once the Board has approved the Policy, we expect the application process to begin with the Club contacting the possible recipients with an application for funding. We thank the Committee for their work: Marilyn Lowther, Hannah Bell, Wes MacAleer, Peter MacDougald, Paul Crant, Melanie MacDonald, Regan Lewis, Moe Rodgerson, and Martin Ruben.
Previous Donations Strategy Committee/Club work:
An email was sent to the Club on Aug. 23rd from Committee Chair, Marilyn Lowther, requesting Club members to come forward with additional information if they are directly involved in community groups that serves youth, seniors, and poverty. These service areas were determined by the membership survey in June as areas of focus for the development of a Donations/Service Strategy Policy. Committee work is moving along quickly and members of the Committee will be in contact with those who have responded to Marilyn's email.
Bylaw Update Committee:
The process is still underway but moving along well. We expect to have a fully updated set of Bylaws with updated Policies to be placed before the Board within 1 month. Once the Board has reviewed and approved the Bylaws updates, we hope to have the updated Bylaws before the membership within two months for a vote.
We are so pleased that the Canadian Red Cross, PEI Region is honouring the late Tom DeBlois with a Humanitarian Award - he was a true Rotarian and is forever in our hearts.
Story from The Guardian.
The late Tom DeBlois, left, and 18-year-old Lacey Koughan of Charlottetown will receive the 2017 Canadian Red Cross Humanitarian Awards for Prince Edward Island.©THE GUARDIAN/Submitted photo
For the first time, one of the Canadian Red Cross' Humanitarian Awards will be presented posthumously to a P.E.I. man.
The organization will present the award to the family of Tom DeBlois, who was a widely respected leader in the Island's food industry and a dedicated volunteer with a number of charitable organizations and causes.
Among others, he was the founding chairman of the Queen Elizabeth Hospital Foundation and the Queens Region Health and Community Services Board, as well as a board member and chairman of Camp Gencheff.
Deblois worked in the food industry for more than 35 years, including the family owned DeBlois Brothers, and then with TRA Atlantic from 1986 to 2005.
DeBlois unexpectedly died in August 2016, at the age of 69.
Meanwhile, the Red Cross will also present the Young Humanitarian Award to 18-year-old Lacey Koughan of Charlottetown.
Koughan developed a brand, program and website called 24STRONG on which girls and young women can safely share experiences, discuss life challenges, seek inspiration from female role models and support each other.
Koughan has already expanded 24STRONG to Toronto and hopes to eventually expand to more Canadian cities and other countries.
At age 16, she opened her own dance school, has participated in fundraising events to support Syrian newcomer families to P.E.I. and is among the youth entrepreneurs who participate in The Hive, an arts-business incubator.
The awards will be presented to the DeBlois family and to Koughan next month at the Power of Humanity dinner, a fundraising event held Wednesday, Nov. 8, at the P.E.I. Convention Centre in Charlottetown.
Proceeds from the event support Canadian Red Cross services throughout Prince Edward Island.
We've been following the recent devastation in the Caribbean and we want to help. So, at our meeting on Sept. 25th, we've donated $1,000 USD to purchase a ShelterBox.
ShelterBoxes are designed to help people who have lost everything. They are filled with practical tools and utensils that help to create the framework for everyday life.
Each contains a family-sized tent that protects people from the elements and provides a safe space in which people can start to recover from physical and emotional trauma.
The contents differ depending on the disaster and the climate, but items such as solar lights, water storage and purification equipment, thermal blankets and cooking utensils help start the process of creating a home.
Visit www.shelterboxcanada.org to learn more!
| | |
| --- | --- |
| | |
| | |
Dr. Barbara Campbell, Director of the UPEI's Office of Recruitment and International Relations, spoke to the Rotary Club of Charlottetown on Sept. 18th about UPEI's International student recruitment goals and the impact of that on the PEI economy in the short term with millions of dollars injected directly into the local economy. In the long run, universities with large populations of International students lead to increased immigration with ongoing increased investment in local economies.
Barbara is seen here with Club President, Paul Crant.
On Sept. 18th, we welcomed Dr. Ronald J. MacDonald as the newest member of the Rotary Club of Charlottetown. Ron is currently the Dean of the Faculty of Education at the University of Prince Edward Island and the Chair of the PEI Literacy Alliance.
Ron has been a junior and senior high school science teacher in Nova Scotia and Ontario, Canada, for 15 years. He has also been an information technology integration specialist and professional development facilitator. Ron's research includes: supporting science teacher communities of practice when they are integrating technologies; gender differences in students' attitude toward science when technologies are used; the merging of theory and practice in teacher education and project-based learning in science.
Pictured Left to right: Regan Lewis, Ron MacDonald, Club President, Paul Crant.
On Sept. 18th, we had Tom Ponting and Donna Profit speak to our Club. Tom swam his way into the history books by winning a medal at three consecutive Olympic Games. He won a silver medal in the 4×100 medley relay at both the 1984 Los Angeles Olympics and the 1988 Seoul Olympics, and a bronze medal in the 4×100 medley relay at the 1992 Barcelona Olympics. He won the FINA overall Swimming World Cup ranking both in1989 and 1992 and finished 2nd in the same ranking in 1990, all in the butterfly event. Tom also achieved three world records and 33 national titles throughout his lengthy career. Ponting has coached competitive swimming for almost 20 years since retiring from the sport, and is a certified NCCP Level 3 coach. He is currently Head Coach of the Charlottetown Bluephins Swim Club.
Donna Profit has been involved with the Bluephins as a parent of 7 swimmers for over 30 years as well as a coach for 14. In addition, Donna has experience as a Red Cross swimming instructor and she is a certified NCCP Fundamentals coach.
Below, Rotary Club of Charlottetown President, Paul Crant, Tom Ponting, Pluephins Coach Donna Profit, and meeting Chair, Ron Profit.
The Island's Rotary Exchange students had a visit to Island Hill Farm on Saturday, Sept. 17th where they learned to milk the goats! And drink it too...
| | | |
| --- | --- | --- |
| | | |
| | | |
On Friday, Sept. 22nd, the Club had a Social gathering for dinner at the home of Martin & Leslie Ann Ruben. There were 35 people there all included. Thank you to those members who attended and a special thank to hosts Martin & Leslie Ann for their hospitality. The location was beautiful. Unfortunately, pictures were an after thought. This is all we have:
On Sept. 19th, Shawn Stewart received the 2017 Council of the Federation of Literacy Award from Premier Wade MacLauchlan. The award celebrates the contributions of Canadians to literacy and the exceptional commitments made by adult learners. Congratulation's Shawn on this great achievement - you are an inspiration! #Literacy #Rotary
From left to right picture two: President of the Rotary Club of Charlottetown Literacy Foundation, Kingsley Lewis, Premier Wade MacLauchlan, Literacy Award recipient, Shawn Stewart, and Rotary Club of Charlottetown President, Paul Crant.
Members of the Charlottetown Rotary Club travelled on the ferry "Harland" from Charlottetown to Halliday's Wharf at Eldon for a Picnic at Eldon on August 5th, 1925.
At our Sept. 12th meeting, our incoming Rotary Exchange students, Ben Heine and Giulia Belardinelli, had the opportunity to attend their first Club meeting and meet Premier MacLauchlan.
Get to know them:
Ben is from Belgium. He enjoys playing guitar, volunteering and travelling with Scouts and spending time with his mother and father and 4 younger siblings. His first host family is Peter Douglas and Janet Midgley.
Giulia Belardinelli is from Italy. Giulia enjoys travelling, painting, snowboarding and gymnastics. Her first host family is Ewan Clark and Anne Partridge.